°neo by Five Degrees and Fourthline announce a collaboration

to fight financial crime in digital banking.
This collaboration aims to add KYC capabilities to the lending and accounts engines of our cloud-native core banking offering, °neo.
The contemporary financial services landscape is a fast-moving space, and only those businesses and organizations that manage to adapt quickly and change, will operate efficiently and realize their full potential.
Fintechs are challenging conventional thinking and forcing traditional banks to reinvent themselves, moving away from the standard set of services. Modern fintechs like °neo by Five Degrees and Fourthline rise to the challenge of giving banks and lenders the most innovative financial tools to keep up with the changes. The best-of-breed approach with easy integration possibilities will keep both fintech companies at the forefront of innovation.
Stefan Wittens, Platform Experience and Ecosystem lead at °neo by Five Degrees: "We are proud to announce a partnership with Fourthline for our cloud-native core banking offering °neo. Together with Fourthline, we pursue opportunities to digitize the financial services industry further and help our clients in their fight against financial crime. Fourthline, one of the fastest-growing digital KYC providers, offers KYC-related services that complement the °neo lending and accounts engines. Given Fourthline's ambition and presence, we foresee great opportunities to jointly serve the market".
Serkan Ünal, Head of Strategic Partnerships at Fourthline: "We are very excited to be part of Five Degrees' ecosystem, a company with a wealth of experience and a world-class track record in the financial sector. °neo by Five Degrees' cloud-native SaaS platform, combined with Fourthline's bank-grade compliance as a service, will help our respective clients speed up their go-to-market strategies, smoothen their customer onboarding experience and increase their fraud detection rates.
Integration possibility.
The initial scope of this integration possibility will enable clients to do a quick check on existing customers against the pep/sanction list. With this integration, it is possible to do a quick and automated light form of watchlist screening. This re-KYC solution will detect high-accuracy fraud and de-risk your existing customer portfolio. Note: We recommend the usage of this integration possibility from volumes of 20k watchlist screenings per annum.
Flow.
Now it gets a little more technical and below you will find the sequence diagram of the Fourthline watchlist screening re-KYC solution integrated with °neo, Including a brief description of the flow.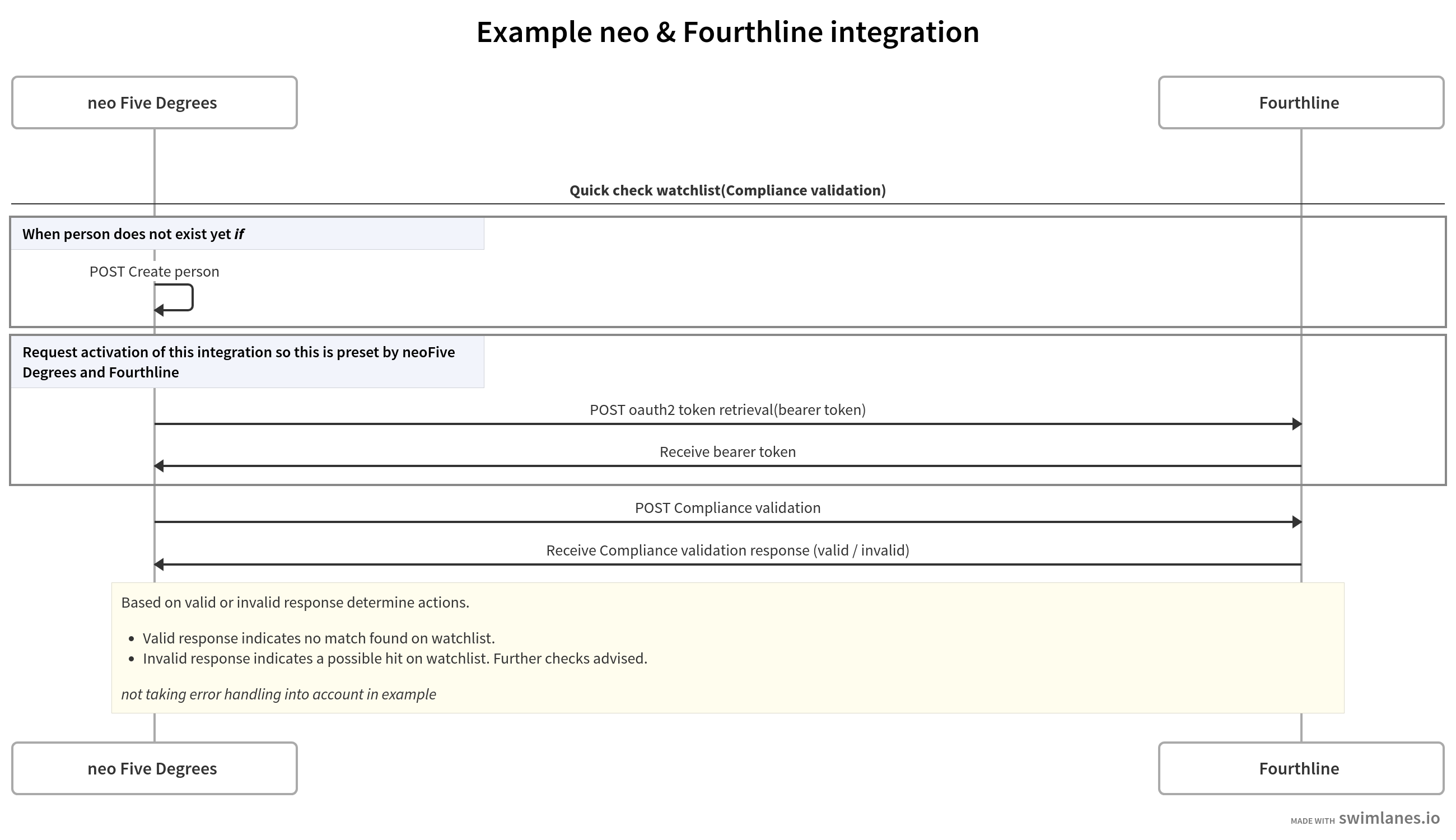 Start with selecting a person for the watchlist check. If a person does not exist yet, create a person through the neo persons API endpoint under 'create person'. After creation of a person you save the GUID of the person (PersonID) which you need for the Compliance validation (Watchlist check) step later on.
To use the Compliance Validation API endpoint a valid bearer token is needed. You can set this up by making a request to integrate Fourthline and neo Five Degrees. You will need an account at Fourthline for this as well as an °neo lending or accounts engine in combination with °neo 360.
The POST Compliance validation is executed and will return a valid or invalid response.
Want to know more on the integration possibilities with Fourthline?
Show your interest in the form on the right sight and check our developer portal to see what endpoint might also be interesting to use.
About Fourthline.
Fourthline is one of Europe's fastest-growing providers of digital KYC solutions. The company's mission is to fight financial crime and protect the online financial system through innovative technologies and best-in-class fraud detection. Fourthline has handled millions of KYC checks for the world's leading banks, fintechs, and insurers as the only KYC provider with a proven end-to-end, mission-critical, bank-grade KYC solution. The company's solution is used for many use cases. Some examples are End-to-end bank grade KYC, Simple ID&V, Proof of life, Authentication/Rebinding, KYC remediation, and Proof of address.
More information: https://www.fourthline.com/
About °neo by Five Degrees.
°neo by Five Degrees is a cloud-native core banking solution that enables financial institutions to meet today's standards. The platform was born in 2019 with a mission to support financial products for banks and lenders that want seamless SaaS loan management technology. °neo combines a deep knowledge of banking, years of experience, and outstanding technological expertise. Its users benefit from a next-gen core banking system that provides banking-grade granularity in combination with extensive data management capabilities and a codeless configuration.
Want to learn more about this functionality?