On 24 June, more than 250 online and live participants joined the Westergas Studio in Amsterdam for

our hybrid °neo live launch event.
Under the careful moderation of fintech commentator Conny Dorrestijn, six industry leaders in banking and fintech participated and shared their perspectives on the state of financial services and the future of banking technology. Here are five takeaways of the °neo live event:
1) Marketplace banking & embedded banking go hand in hand.
Where in the past financial services were more generic, today consumers like to see banking services combined with specific retail or business products, for example for their home, mobility, or for health. The round-table discussion showed banking customers are not that sensitive anymore whether they are served by a bank or a fintech or marketplace provider. Consumers simply want to rely on secure, regulated banking services that work seamlessly for their convenience and are tailored to their specific needs. These services can be provided by marketplace providers, by leveraging the channels of known banks and lenders, through new financial services, or even through non-banks. Still, to keep up with rising fintech and marketplace providers, the need for modern technology for incumbent banks is significant, as they need to keep developing modern clients' services that continue to be appealing as well as cater to regulatory requirements.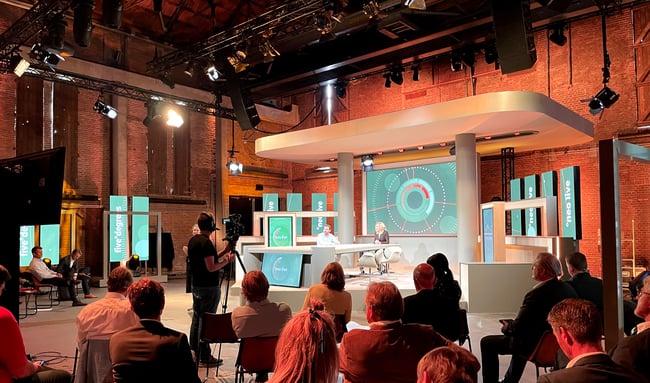 2) Technology partnerships prove to be key
Incumbent financial institutions prove they can change, although they deal with legacy technology and processes which add a significant challenge. For this, partnerships with technology vendors are key, as mentioned by table guest Amne Ndyeshobola, who heads the Finance and Technology department at NIBC for corporate banking. Through experience, she shared that transforming the technical landscape to create a very modern infrastructure is helped by genuinely good quality software, through low-code technology and co-creation with technology providers.
3) Non-banks are entering the landscape successfully
Historically banks were the go-to partner for business financing. But fintechs like Swishfund, who joined the round-table at °neo live, have proven to be an appealing alternative. The landscape has become more competitive over the past years, and fintechs utilize modern technology to service clients rapidly while complying with increasing control mechanisms such as crucial KYC processes. Through this technology, they unlock an appealing market opportunity where traditional providers stepped back or were unable to keep up.
4) Combining technological insight and banking knowledge is truly pivotal
Complementing the second takeaway, both Amne Ndyeshobola and ABN AMRO's AI Head Dennis de Reus underline the need for in-depth technical knowledge as well as the need to understand the complex world of banking. The many use cases presented by both underline that technology like AI can only be put to work with a deep understanding of regulations, customer needs and expectations.
The conversation showed financial services remains a very complex industry where the past years have underlined the need for proper application of deep banking know-how and dedicated technology. Through this combination, banks can be on top of customer due diligence, reporting, digital servicing of clients and reach efficiency gains to remain competitive.
5) Utilizing the data is the new gold
For any bank, it's not the lack of data, but surely the challenge lies in the ability to utilize data. Dennis the Reus provided many AI use cases where data is key, but above all, it is clear that the precise and well-directed way data needs to be utilized is key for banks to help their customers, and at the same time stay within the strict data regulations and privacy guidelines.
As an experienced technology director of many non-financial and financial companies, Madelein Smit, CIO at EVbox highlighted the incredible amount of data that arises from her clients, partners, and suppliers which leads to large financial flows and data streams that are the backbone of the EV charging business.
Niels Jansen, CTO at Swishfund highlights the use of modern tooling to help clients to spot opportunities or gaps for their financial wellbeing. It truly shows that data can be used for the benefit of the financial service provider and for the benefit of the consumer at the same time, but it starts with the ability to utilize the data.
Do you want to know more about °neo live? You can watch the full recording of the event.