On February 12-14, FinovateEurope returns to London to showcase the best, new innovations in fintech. This year's selection process was incredibly competitive, and we've been chosen to showcase our demo for the 7th consecutive year!
The event is a unique combination of fast-paced, onstage demos with hours of dedicated networking time in an intimate exhibition area. In just 7 minutes, we'll showcase our newest innovation, and then we would love to see you at Booth 5 for a deeper dive into our technology. On top of that, you'll have the chance to network with hundreds of other attendees, including financial & banking executives, venture capitalists, members of the press, and other fintech entrepreneurs.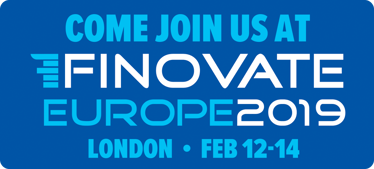 FinovateEuorpe 2019 gathers +1400 attendees, +65 cutting-edge demos and +120 speakers all under one roof. Find all details on the event and the program here.
Learn more from the fintech experts of five°degrees about building the ultimate roadmap to true digital banking and experience our digital banking platform Matrix at Booth 5. Read Gartner's "Cool Vendors in Banking" 2018 report to find out why Gartner has named us as one of the "Cool Vendors".
Join us for this three-day fintech event. If you haven't registered yet you can request your 20% discount code here.
Let's shape the future of digital banking together.
Place: Tobacco Dock, London, United Kingdom
Date: 12-14 February 2019
Press contact
Martine Korstanje (Director of Marketing)
martine.korstanje@fivedegrees.com
+31-6-10722135