Today, at Finovate Asia in Hong Kong, five°degrees has launched an innovative lending solution with Predictive Analytics using Artificial Intelligence. The solution aims to make life of banks' Small and Medium Businesses (SMB's) clients a lot easier by simplifying the onboarding process.
Digitization in banks started with retail clients, but SMB's remain underserved by banks. Relatively complex processes (for instance multiple director structures and power of attorneys) have prevented banks from offering a smooth onboarding experience. Happily, technology has evolved and at Finovate Asia, five°degrees will showcase a solution that provides SMBs with a full digital journey.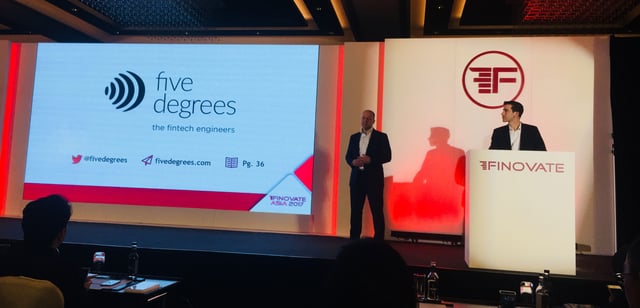 (five°degrees' CCO, Peter Jan van de Venn and Solution Consultant Max de Winter
demo innovative lending solution at FinovateAsia)
five°degrees has demoed a paperless onboarding of an SMB client with a complex multiple director structure, making use of the orchestration power of its Digital Banking Platform Matrix in combination with a set of third party ecosystem services including Credit Checks, VideoID, Chamber of Commerce data and KYC checks. The solution uses real-time insights, and with no need to upload any documents as it provides fully digital credit underwriting onboarding.
Fully digital onboarding was only the part of the demo, though. five°degrees has also shown that connecting to SMB's financial administration brings the digital journey to the next level. By using predictive analytics, it was shown how an SMB is reminded that its cash flow is likely to reach a critical point in the near future and immediately offered a credit line to address this issue. Because the Bank is connected to the financial administration of the SMB, there is no need to provide additional financial information to obtain a loan. This is what Gartner refers to as 'Empathic Banking' - using digital technology to identify important moments in customers' lives and trigger actions to support them.
Would you like to know more about our SMB Lending solution? Contact our experts at sales@fivedegrees.com.