Flexible configuration of processes
The more you can configure by yourself, the more independently you can run your business. That's why you can define the processes around your FX settlements, payments, flows, terms, currency rates etc.
Connect your exchange rates
With °matrix, you decide the source of your exchange rates. You can either proved the rates yourself or connect a rate supplier. You define the source and add your own mark-up on the rates and the way they are being applied within the exchange process.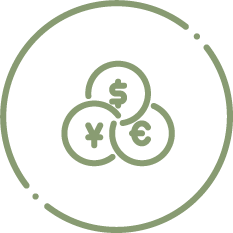 Full multi-currency support
Your clients want to limit their currency risks as much as possible. This is best achieved with proper multi-currency accounts and a variety of foreign exchange products. With °matrix, we offer all of those, making multi-currency a breeze.