Digital banking
Nearly everything you need to know to future-proof your bank
It is no longer news that the banking industry is going through a period of unprecedented change at the moment. Banks are working hard to improve their customer experience and to adapt to emerging technologies and trends by digitizing their services, product and processes, and utilizing their data in a more meaningful way. However, ensuring their viability in a market that is rapidly changing and where the competition from fintechs and tech giants is increasing is still a major challenge.
"The banking industry was built in the industrial revolution, and focused upon the physical distribution of paper in a localized network of buildings and humans. Now we're in a digital revolution where everything is becoming the distribution of data on a globalized network focused on software and servers, and banks have this physicality that's locking them into old ways of doing things. They're trying to break out of it, but it's difficult because it's a fundamental change of the bank structure."
Chris Skinner
There is only one thing banks can do to become future-proof: making a full switch to digital banking. The digital disruption in banking requires new strategies and fundamental changes in how to operate.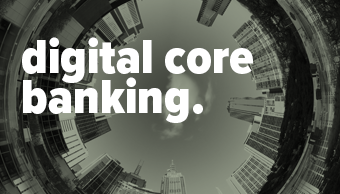 Explore how evolving business conditions in the banking industry and dynamic changes in the core system market are driving legacy modernization.
Banks can't become agile and digital overnight, yet it is a path they have to take to survive. Why? Because it is all about customer experience and satisfaction nowadays. Better said: banks should be customer-centric.
"The banks that really get digital have customer-centricity at their heart … I think that's the problem. A lot of banks are product pushers, when they should be customer engagers."
Chris Skinner
Customers have been spoiled by companies with innovation, constant customer-based added value products and services that keep enhancing the user experience and satisfaction. These same customers expect banks to step up to this level of service, which poses a challenge.
Becoming a digital bank doesn't just ensure viability because you can retain and attract customers by providing excellent customer experience, digital banking has more advantages:
Cost reduction
Increased revenue
Agility
Viability
Exploring the benefits of new technologies

Digital banking offers many benefits for banks and customers; it is highly important to adapt to it. Digital banking is the face of advanced technology, so it is vital to embrace it in all your banking areas.
The most successful banks of the future will be able to provide new value-added self-managing services that combine real-time data insights with security and flexibility — and make full use of all the digital banking opportunities to help customers get their best futures.
1.
What is digital banking?
Digital banking is often being confused with online banking, and although there is undoubtedly an overlap between the two, digital banking goes way beyond an online or mobile platform.
Therefore, the real meaning of digital banking is often misunderstood. In short, the description of digital banking is: the full digitization of banks and all its activities, programs and functions — front-end and back-end — and connecting both worlds through middleware.
However, the question 'What is digital banking?' can't be answered in one short sentence. It is a much more complex concept that needs detailed explanation to avoid misconception.
As said, digital banking goes way beyond a fancy website or app. It is about the automation of every single step of the banking relationship — from launching a new product to customer service and anything in between. It contains a full transformation to a digital environment.
Digital banking relies on big data, analytics and embracing all new technologies to improve the customer's experience. It requires a structural and fundamental (organizational) change with the customer as the starting point. Digital banking is about offering the customer the service of their choice through the access of their choice. To do so, a bank has to be designed and created upon a digital core infrastructure that is accessible internally and externally through a stratum of access layers. No legacy. No spaghetti.

Compared to traditional and online banking, digital banking has several advantages:
Cost savings & increased revenue
Digital banking eliminates costly back-office processing operations and the need to invest in the expensive hardware and software for legacy systems. It also requires less staff as a lot of day-to-day operations will no longer exist. In general, cost savings between 20% and 40% could be achieved.

Digital banking doesn't just lead to cost reduction; it also generates increased revenue. It enhances a 360-degree view of your customers through intelligent systems and effective use of data. Seamless customer intimacy leads to a higher market share.
Agility
Banks that are agile can quickly react and adapt to market changes, new technologies or new legislation. Agility enables quick and simple process adjustment and fast product launches, so banks can differentiate themselves from their competition.
Remaining compliant with new regulation and legislation
With the introduction of new legislation like GDPR and PSD2, it will become a real challenge for banks to remain compliant. Legacy systems make embracing this legislation difficult because customer's data could be held on lots of different systems. Due to this spaghetti structure, even the simplest changes could take months and months.
Exploring the benefits and possibilities of new technologies and trends
New technologies and trends in digital banking, such as open APIs, blockchain, banking as a platform or cognitive banking, will have a significant impact on banking business models. However, just like with new legislation, legacy systems limit the ability of banks to adapt to these developments. You need to transform digitally to fully explore the benefits and possibilities of these technologies and embrace the technologies that help you to future-proof your bank.
Becoming viable
To speak about future-proofing your bank, viability is ultimately the most important thing. It's your goal to ensure the viability of your bank and make the business more profitable. Digital banking allows banks to offer services at the same quality level as fintech and tech giants. This is what you need to attract and retain customers and build closer relationships with them. Digital banking is a necessity to compete on costs, usability and customer satisfaction.

I hear you thinking, are there no disadvantages to digital banking? We would say there aren't really disadvantages, but rather risks:
Cyber security: With digital banking and the need for personalization, the amount of personal data increases enormously. However, to optimize the protection of this data is a real challenge, as attackers have become incredibly smart.
Reputational damage: To improve customer experience and build a close relationship with your clients, you need extended data. If you don't handle this data carefully, it can lead to reputational damage as customers may feel you know too much about them. Privacy becomes increasingly important, so it is key to retain trust.
Adapting to new legislation: Even though digital banking enables quicker adaptation to new legislation, it is also a risk (and challenge) as new regulation accumulates rapidly. You don't know what is coming, so how can you ensure that you set up your business in such a way that you can comply with it?
2.
Digital transformation for banks: how to gain more insights
It's been said earlier: to become a digital bank; you need to make a full transformation to a digital environment — front-end, back-end, and middleware. Most banks, fintechs, partners, and resellers recognize the scale of the transformation they are now part of — from the infrastructure of banking and payments, to methods of delivery and the structure of the sector.
However, for many the transformation to digital banking is still a grey area: where do you start? We will tell you more about the requirements for switching and what a true digital bank looks like, so you gain more insights into the digital transformation of the banking sector.

1. Understanding digitization
Digitization can mean many things to many people. From some, it is simply automating manual processes or the latest step in a journey to mobile services. The common factor in these cases is tapping new channels of delivery to existing offerings. Each is a discrete service complete with discrete databases and isolated infrastructure.
True digitization in banking breaks that model apart.
A digital bank relies on a single, digital core that acts as a foundation for all delivery channels and simply offers different access points for customers and employees.
"Digitization means that financial institutions are increasingly becoming technology companies with a banking license."
Zane Miltina, Luminor Bank
It is key to understand that digitization and the transformation to a digital bank isn't just a twist on business as usual.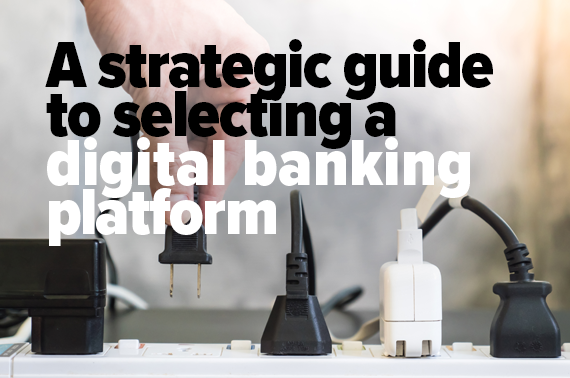 Learn how banks can plan their route through digital transformation.
2. Take a look at the very core of your existence: who are you and what are you capable of?
With the banking industry going through seismic change, some introspection is required. Transforming to digital requires banks to ask some questions of themselves:
How do you define your role in this new landscape?
Do you wish to remain the provider of all things to all people or is a degree of specialization more realistic?
Do you need to simplify and streamline your product offering?
Do you wish to be a platform or an aggregator?
The idea of being all things to all people — as banks have been for a very long time — may no longer be viable.
3. Put the customer first
Digital banking is eventually all about increasing customer experience to attract and retain customers, and build valuable relationships to improve competitiveness. It is about putting the customer first — in everything you do.
To be able to do so, you need to know who they are:
What is their age, profession, earning potential, geographic locations, and financial parameters?
What are their life stages, lifestyle factors, and behaviors?
Which (digital) channels are they using for banking services and products?
It is crucial for you to answer these questions if you want to build a long-lasting relationship with your customers. You need to know what they are looking for and which channels they use to be able to offer the services and products they need.

4. Define your goals: what do you want to get out of digitization?
To switch successfully, banks must be clear about what they want to achieve. One of the features of the new realism in financial services is a renewed focus on strategic technology solutions over hyped digital possibilities.
For example, the number of banks who see digital currencies and distributed ledgers (blockchain) as their biggest opportunity has fallen from 26% in 2017 to just 14% in 2018. The number who felt the biggest opportunity lay in exploring new business models also experienced a rather precipitous slum, falling from 39% to 14% over the past 12 months.
5. Commitment to innovation
It's a cliché but still very true: success takes focus and determination. In the newly non-frothy environment, it is clear that a number of the grand ambitions of the last three years have quietly dropped.
The new realism is proving that effective leadership has been patchy: when operational heads have used regulation and risk aversion to slow progress, or front-line managers have insisted that any cuts in budget will adversely affect growth or customer service, projects have become fatally delayed. When IT projects have failed to overcome complexity and or deliver on promised efficiency savings, it has acted as a break to further progress.
This is where leadership and the long-term vision that can build a new type of culture come in. Complexity is inherent to modern banking, and though it is tempting to keep it that way, the banks that are succeeding do not using complexity as a means to short-circuit their transformation into slimmer, digital-first organizations.
The points above are all requirements to successfully transform into a digital bank. But what are the essential elements of the 'rewired banking philosophy'? What are key points to achieve your desired objectives, like cost reduction, viability, and improved customer experience?
Services over screens: Don't let your channels get in the way of great service and a greater experience. Separate business logic from the service layer to move from omni-channel to omni-access.
Keep client data out of core systems: Reduce system complexity. Use core banking systems to create products and manage transactions with customer data in a middle layer to enable a 360-degree customer view.
Your customers are your best employees: Improve customer satisfaction by liberating your customers. Use tooling that allows you to give them as much autonomy as you can. They know what they want – so let them get on with it.
Open up for APIs: Open up for APIs Marketplace banking is the new normal. Use an open architecture solution — like Matrix — as a gateway to connect with other providers and unlock the full potential of the fintech ecosystem.
Partners as enablers: Pick partners that give you the flexibility and control to change when you need to change. Reduce vendor dependency with configurable solutions that let you build and develop independently in an agile way.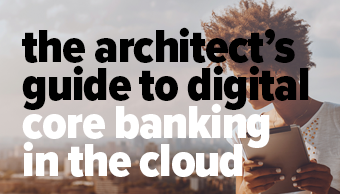 Learn about building and implementing your digital core banking platform in the cloud, configurable and with automated deployment.
3.
Building a digital bank: this is what you need
Building a digital bank requires patience and long-term efforts: you don't become one overnight. But what do you, in any case, need to become a future-proof digital bank? We have listed the essential elements:
The right organizational structure
Often, individual departments like marketing, customer service, operations, and risk management, build their digital assets for different purposes. They prioritize short-term cost savings and efficiency improvements over business goals. If you want to fully transform into a digital bank, a centralized model and structure are essential. Becoming a digital bank is not about the digitization of certain processes or departments, it is about digitizing the entire bank — front-end, back-end, and anything in between.
Eventually, digital resources should live within business functions to enable the end-to-end transformation. Digital transformation should be elevated to C-level to fully drive it for the entire bank.

A positive business case
Investment in digital banking is required, there is no one in the industry who disagrees on this, but how do you determine which investments you should prioritize? You want to build a positive business case for digital banking. A smart way to do so is to evaluate the financial contributions of digital within the context of all your channels and capabilities.
According to Novantas, an effective digital banking business case should demonstrate why certain initiatives need to be prioritized, and the value they provide. In other words, it is wrong to justify outlays based only on in-channel metrics, such as online product sales or bill pay penetration. Instead, digital investment business cases should include sales driven across channels.
The same would be true for cost-saving proposals related to transaction migration. Metrics should reflect the bank's overall performance, using inter-connected business cases.
A long-term digital banking strategy
To build a digital bank, you must define a digital banking strategy: an action plan that sets out the guiding principles and building blocks.
Our partner Deloitte believes there are five 'general' business models that can be applied in your journey to a digital bank:
Trusted advisor
Banks choosing 'trusted advisor' as the business model will focus on exploiting economies ofscope and getting a high share of their client's wealth. The value proposition is building uponclients' trust and going beyond pure investment or transaction advisory services.
Product leader
So-called 'product leaders' will differentiate themselves from their competitors by developing innovative products for premium prices. Rapid time-to-market to quickly gain market share is one of their main objectives, this enables them to maintain their market position.
Transaction champion
This strategy focuses on exploiting economies of scale through partnering with other providers, banks, and non-banks. It is built on standardized offering at a low cost through white labeling, offering custody and depositary services and acting as a transaction consolidator.
Managed solutions
Banks choosing this business model or strategy will focus on providing specific bank solutions to other providers. It allows banks and non-banks to break up their internal value chain and to source capabilities from the 'managed solution provider'.
Universal banks
Banks choosing this strategy will offer a comprehensive product offering across several industry sectors with greater flexibility to tailor client needs. The key is the maintenance of seamless control over front-to-back processes.
We understand that reality isn't this black and white and that hybrid models may co-exist. However, it is clear that banks have to look at the core of their existence to determine who they are and what role they want to play in this changing industry. You need a crystal-clear strategy to become a digital bank.

A future-proof digital banking platform
You can't become a digital bank without a digital banking platform. Such a platform enables you to bring together new and existing processes as a means of offering the innovative digital products and services that are critical to retaining and attracting customers in an increasingly competitive market.
A digital core banking system
To build a digital bank, you shouldn't just digitalize 'what customers see' but also the core, the back-end systems. Dynamic changes in the core system market are driving legacy modernization.
Being a digital bank requires the implementation of next-generation software in the back (and mid) layer to provide the customer experience that customers already expect – and receive - from other service providers. Learn how Van Lanschot achieved just this.
A future-proof digital core banking system reduces traditional core banking, mainly to data storage. This allows focusing on customer engagement, business agility, business insight, and transformation support.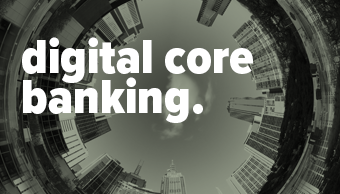 Learn how banks can achieve true digital transformation by implementing a more flexible digital core banking platform on top of their legacy systems.
4.
Digital banking & compliance, security and regulatory
Banks and other financial institution face an expanding maze of regulation. After the financial crisis in 2008, regulatory activity has led to a substantially increased volume of rules that are incredibly complex and continually evolving. Becoming compliant is a real challenge. Banks need to go beyond regulatory compliance to be safe and prosperous in banking — regulation is always a catching up game.
One of the biggest problems for banks in becoming compliant is distributed customer data across different (legacy) systems. Different departments work with various systems, and you get mingled client and product a as result. There is no overview on the available data. Subsequently, you can't have a centralized approach to manage data and legislation like GDPR.
If you store customer data centrally, it becomes much easier to be compliant and minimize risks. Therefore, you need to make the switch to digital banking with a core that separates client and product data.
Digitalization and centrally stored customer data have several benefits:
You can enforce a process to always perform data processing in the same way

It improves consistency and reduces errors

You are aware of the data you have in a structured way.

You are aware of customers' requests and actions, and it is easy to delete or manage data



It doesn't only become much easier to be compliant with a future-proof digital banking platform that separates client and product data; such a platform also improves security.
An open digital banking platform with an API layer enables you to connect to third-party services, also in the field of security. You can use services that are provided within your region. These parties are specialized in security and monitor changes in regulation for up-to-date services and solutions.
You don't have to reinvent the wheel and develop security solutions. You can work together with third-parties and integrate their solutions to ensure your systems meet security requirements.
In short, digital banking — or better said a future-proof digital banking platform with an architecture that separates client and product data and an API layer — helps you to structure customer data to become compliant and provide integrations to ensure meeting security requirements.
5.
A digital banking platform: the key to successful digital banking
As said before, there are several things you need to do to become a digital bank — such as a redesign of your business model, a customer-centric approach, and an engaged workforce — but a future-proof digital banking platform is key. It's the foundation.
Why? Because the industry is constantly asking for introducing new, innovative solutions to the market and customers are calling for an excellent experience.
"Financial institutions must be able to deliver an easy to navigate, a seamless digital banking platform that goes far beyond a miniaturized online banking offering."
Jim Marous
An open unified digital banking platform enables a bank to bring together new and existing processes as a means of offering the innovative digital products and services that are critical to retaining and attracting customers in an increasingly competitive market. The following features are essential for a future-proof digital banking platform:
Supporting open unified multichannel integration
This is crucial because it enables you to focus on synergies across all channels and partners — internal and external— rather than simply on the delivery of a specific product or service.
A broad range of capabilities to support a variety of customer experiences across channels
A future-proof digital banking platform offers a broad range of capabilities to enable seamless customer experience, such as business process management, customer relationship management, document management, payments, bank templates, etc.
A three-layer architecture
We believe building a digital bank is most effective when you focus on all three layers of the core banking platforms: the presentation layer, the client and orchestration layer, and the product layer. This architecture enables seamless customer experience and separate product and client data.
A thin presentation layer of information for customers (and employees who also use the system) A client and orchestration layer focused on handling all client related processes and information that orchestrates between the presentation layer, the back-end and the fintech ecosystem A product layer focused on handling products, ideally containing no client information
A thin presentation layer of information for customers (and employees who also use the system)
A client and orchestration layer focused on handling all client related processes and information that orchestrates between the presentation layer, the back-end and the fintech ecosystem
A product layer focused on handling products, ideally containing no client information
A true digital core banking system takes this process a stage further by using APIs. At the client and orchestration layer, these interfaces unlock the potential of the fintech world, enabling customers to make use of providers developing niche services.

The possibility to integrate the digital banking platform with legacy systems
Legacy platforms reach into almost every aspect of the business. Replacing them is not always the right thing to do as it has a colossal impact. Re-engineering core systems and processes to be built upon a digital core foundation is a smart way to achieve the desired result. To do so, you need a flexible digital platform you can implement on top of your traditional core system; this will enable rapid returns.
An open API layer
Most banking systems aren't compatible with open APIs, which means banks can't offer innovative third- party services to their customers. A future-proof digital banking platform is compatible with these digital gateways, so you can offer a range of in-house and third-party products and services, allowing a 'plug and play' approach.
Implementing a digital banking platform should not be a project with a beginning and an end, but a continuous process.
6.
How to select the right digital banking platform for your bank
It is clear that you need to invest and migrate to a digital platform to enable the possibilities and opportunities of digital banking. But how do you select the right digital banking platform for your bank? Which factors determine what the right choice is?
Implementation time, flexibility and agility: How long does it take before the platform is completely up and running? This is an important parameter as you want to exploit new business opportunities and to reach business goals as soon as possible.
The architecture: What is the architecture of the digital banking platform? Enables it seamless customer experience, separate client and product data and connectivity with existing legacy systems?
Openness: It has been mentioned before, but open APIs are important to offer in-house and external products and services to your customers. Make sure that the digital banking platform of your choice offers the possibility to easily integrate future developments.
Full focus on banking: Not every available digital banking platform has full focus on banking — providing an innovative solution tailored for the banking industry. However, a platform that has been developed and improved with banks and its challenges in mind can most likely help you better into transform to the digital bank you want to be.
Costs: This parameter will be no surprise. Costs will always play a role in the decision-making process.

It is not just about selecting the right platform, but also about selecting the right digital banking platform vendor. Can they provide the support you need to implement the digital banking software and fully adapt to it?
We have listed the key elements that we believe are important in selecting the right digital banking platform vendor.
A 'sandbox environment': Through such an environment, you can experience every aspect of the platform before you make a decision. This supports you in making the choice that best suits your business.

Proof of concept: Offers the vendor the possibility to see and experience how a specific element works? The opportunity to create a pilot where demarcated functionality is built, especially for you. So you can test if this is what you need and experience if the selected vendor can help you to achieve your goals.
The right knowledge, skills and a cooperative attitude: A digital banking platform is a complex solution, involving sophisticated technology. A valuable digital banking platform vendor also distinguishes itself through a cooperative way of working, a human approach, contributing ideas, customer intimacy and in-depth banking and technical knowledge.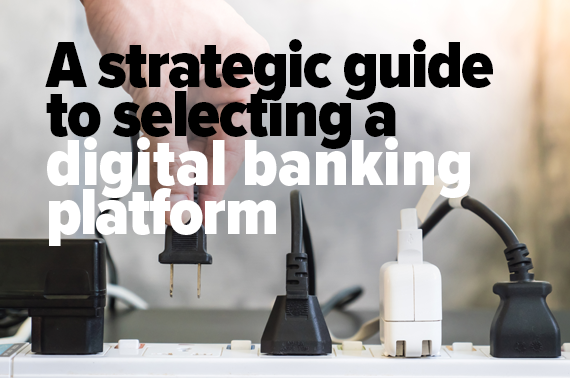 Discover what is essential in choosing a platform that meets your long-term strategy and ensures the viability of your bank
7.
How to implement a digital banking platform
Selecting the right digital banking platform is one, but successfully implementing and integrating a digital banking platform is the final significant step in becoming a digital bank. This step often proves to be a challenge for banks, as detailed requirements and the right integrations are hard to define.
Successful implementation and integration consist of the following three steps:
A discovery phase to verify requirements and a detailed implementation project plan

A configuration and development phase

A testing and go-live phase


1. Verify requirements and a detailed implementation project plan
In this phase, you jointly decide with your vendor and other parties involved what you want to achieve after the implementation. You determine the requirements, including integrations and processes. It is our advice to focus on the core requirements to benefit much earlier. When working iterative, users can get up and running with the core as soon as possible.
We typically define it in a so-called Minimal Viable Product (MVP). Starting with an MVP approach lowers the risks of a project and shortens the time to market. The 'nice to have' requirements are often the hardest ones to build, so it should make sense to build them when the core is already up and running and thoroughly tested.
From a business perspective, it is imperative in this phase that the scope of the integration and implementation is agreed upon by all parties involved and that the scope, when set, is not changing too often. Knowledge of the business rules and data stored in the external system must exist on the bank side. Equally important is excellent support and communication between the vendors.
In this phase, you set up a target architecture and define interface designs, you set up a data migration plan and deliver a implementation project plan, including scope, approach, product backlog, planning and resourcing, and costs.

2. Configuration and development
In this phase, you work together on setting up DTAP environments and interfaces. You also set up and configure the digital banking platform on environments. You run several ID and compliance checks and system and integrations tests, migrate the data and deliver to acceptance environment.
3. Testing and go-live
In this final phase, you run a User Acceptance Test on the Minimal Viable Product and finetune it, before the delivery to the production environment can be done.
For a successful implementation and integration of a digital banking platform, you need:
Proper documentation on the external interface

Stable interface

Well defined integration and implementation scope

Relevant technical knowledge on the vendor side

Relevant business knowledge on the project side

A stable and available test environment on the vendor side

Good alignment and communication between all parties