Thinking of transforming to a digital bank? Choosing a flexible digital banking platform will make future banking product introductions easier and quicker.
Becoming digital
Whichever way you look at it, making a full switch to digital banking is the only route that banks can take to become future-proof. Digital banking involves the digitization of a bank and all its activities, programs and functions — front-end and back-end — and connecting both worlds through an orchestrating middle layer. Most banks admit this and are actively researching the best approach for their digital transformation, and they are discovering that it's quite a challenge to select the most suitable digital banking platform. Digital banking requires banks to adopt new strategies and make fundamental operational changes; it goes beyond a fancy app or website.
Not all vendors are equal
There are plenty of digital banking platform vendors in the market, and each one has their own unique selling point. However, there are very few platform vendors that offer a platform that is future-proof and has completeness of capability. Check out Gartner's Cool Vendors in Banking 2018 report. One thing is certain: you'll be staying with your chosen banking platform and its vendor for a long time so it's important that the banking platform you select is ready for your requirements now, and that it offers flexibility for your future directions. Whether you are setting up a greenfield financial or transforming an existing bank, the ability to be future-proof is a critical requirement.
Some vendors will present themselves as having a modern and agile product, but you'll have to carefully evaluate their product for its ability to keep up with both new technologies and market changes. As a bank or financial institution, you'll need your banking platform to perform today, but also to cope with your products and demands in the future. It will also need to be flexible enough to handle the unknowns: do you know which new regulatory requirements and legislation are coming your way?
Many vendors offering mature banking platforms continue to build layers on top of their platforms to connect to external banking systems. This typically creates complex system architecture and is time-consuming in its development and delivery. Some vendors will try to create their own in-built features to meet clients' product requirements, thus increasing the complexity of the banking platform and limiting the choice for the client.
Integrating products in a digital bank
Therefore, when you are selecting a banking platform it's very important to not only focus on the products that are available as part of the platform, but also to ask how those products are integrated in the platform, how easy they are to update, and how easy it is to add new products.
Look for a banking platform that is natively built for connectivity, and which has a modern service and/or integration layer that can work with a variety of integration methods. This will save you a lot of time and risk when integrating with other banking systems and services. In addition, look for a platform that offers off-the-shelf integration with fintech services that you need now or in the future. You will almost certainly want to continue to add products and services to your banking platform to expand your product offering. A flexible digital banking platform will allow you to easily integrate the latest and best pre-built products and services that are offered by third-party fintech providers.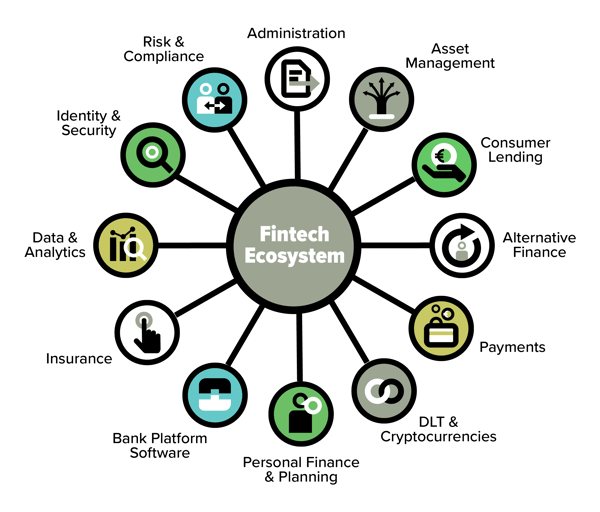 The open-banking marketplace
A modern, flexible and future-proof digital banking platform will provide a marketplace that offers products which can be easily integrated with the platform. The products will range from services required by the bank through to banking products offered by third-party vendors. Marketplace products will require a minimum of integration into the banking platform.
A state-of-the-art digital core banking platform enables the connection of third-party products through standardized APIs (Application Programming Interfaces) that allow easy coupling and decoupling of software applications. At the banking platform's client and orchestration layer, these interfaces unlock the potential of the fintech world, enabling customers to make use of third-party providers that develop specific or niche services.
five°degrees offers its open-banking marketplace to enable you to easily add and launch additional functionality, new services, and innovations to the Matrix digital banking platform. These products allow you to enrich customer experience, improve efficiency and strengthen compliance. For example, the five°degrees preselected vendors offer products that include digital ID verification, Know Your Customer and Anti Money Laundering, together with more data-rich integrations like financial planning, analytics, insurance and robo-advice products. Our clients can rely on our experience with these vendors, and they get the guarantee of seamless integration with our banking platform. And don't forget that the very-short-time to market for new services offers you the ultimate in product flexibility.
We're are continuously looking for new third-party providers and their products to add to our marketplace to ensure that our clients have access to a large selection of the latest and best third-party services. Our product selection is continually growing so that our Matrix digital banking platform always stays at the forefront of future-proof banking platforms.
We've created a strategic guide to selecting a digital banking platform that will show you the important things that you need to consider in your journey to digital transformation, including how an open-banking marketplace can offer you the products you need to stay ahead of the game.