When 70% of people say they would rather visit the dentist than their bank, then something has gone very badly wrong. But when a pilot scheme shows that people will donate to individual rough sleepers on the street through mobile payment technology and digital wallets, then you know that banks have it in their power to reconnect with customers and their community.Banks can't take customers for granted and have to continually convince clients of the value they offer. That's no easy task. Customers want much more than they are getting – and don't trust banks to deliver. It is a profound challenge to traditional banks and their business model, and one that requires an equally profound response. If banks get their response right, this could actually be one of their biggest opportunities.
In this series we're going to look at those opportunities: how a little digital healing can go a long way to mend the rift with customers; and how digitisation can avert the looming existential crisis.
In this first post, we're going back to basics and laying out the business rationale for digital transformation.
Five reasons for switching to digital
Reason 1. Compliance
No one said compliance is easy. But without digitisation, it is becoming all but impossible. New regulations like the Second Payments Directive and Open Banking are effectively turning banks inside out and re-shaping the way we think about customer data. Banks need systems and applications that provide access to customer data to any number of authorised third parties.
Traditional ways of thinking about banking – a closed shop protected by very high walls – are being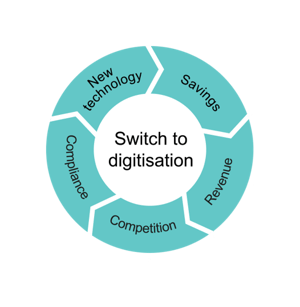 retired. Banks need to open up their systems to digital-first FinTechs, while protecting their own customer relationships; and most legacy platforms are no longer fit for this purpose. Going digital is the way to avoid both a major compliance breach – and being disintermediated from the process entirely.
Reason 2. Competition
From new technologies we get new competitors. These competitors don't look much like traditional banks, and they aren't trying to contort existing IT platforms into new shapes. They are digital first, and are consequently more intuitive and better able to anticipate what the customer wants in advance. Many banks recognise that they compete with Apple in the mobile payment space, in addition to the growing FinTech cohort. But they are more reluctant to admit they compete with Amazon in the customer expectation space – and that the bar is exceptionally high. Customers want the autonomy and choice that Amazon and others give them. They want a peer-to-peer experience. The asymmetry of the paternal banking model, in which banks dole out services to customers like sweets to a child, is out of date.
Reason 3. New Technologies
FinTech is an exceptionally fast-moving and innovative space. And so one of the strongest business cases for digitisation is this: if you don't do it, someone else will. For example Munnypot has created a greenfield robot advisory service for wealth management in the UK. It makes the management of financial investment portfolios affordable and accessible to people who are usually disqualified by incumbent banks. When ABN AMRO decided to launch a new FX trading and payments proposition for SMEs, it went digital from the start and launched in only eight months. And when Brand New Day, the Dutch challenger insurer, added a savings operation to its pension business, the new bank was delivered in less than five months. The point is that by using new technology, innovative new services can be brought to market in a short time frame.
Reason 4. Revenues
Let's look at the process for on-boarding new customers. Many traditional banks still require new customers to visit the branch and to present their ID, followed by an on-boarding process that can take days. Not only it costs traditional banks 75 times more than it costs digitised banks, it creates a window for potential customers to choose an easier and quicker option – and take their potential revenue with them.
Legacy platforms allow banks to replicate certain parts of the process online. But that is it. In contrast, Uber customers can book a car, find a restaurant, reserve a table and make a payment in the same app. This is what banks should aspire to: delivering services that are designed around the real life of the customer (what McKinsey calls the 'customer journey', and which are essential to understand if digitisation projects are to be a success.) It may be that core services retain some elements of physical delivery. But that choice is led by what customers want, not what IT is capable of.
Reason 5. Cost Savings
There are some pretty convincing numbers about the cost-reducing capacities of digitalised banking. Consider the following:
It costs an average traditional bank around $1,500 to fully onboard a KYC'd client. It costs a digital bank $20. On average, the cost per transaction of online banking is $0.09, and $0.19 for mobile banking. A branch transaction costs the bank, on average, $4.00. Banks can remove up to 25% of their cost of their costs by harnessing digital services.

A typical bank spends 85% of its IT budget on maintaining legacy systems. That's 85 % that is not being spent on supporting the business and its growth.
In other words, banking-as-usual is sucking up budget just to stay still. In contrast, automating a range of processes for customers and staff, and introducing self-service capabilities, could deliver cost reductions of anywhere between 40% and 90%. (Check our client case studies here for more insights on cost reduction capacities.) Banks that are on a journey towards becoming a digital bank should consider these numbers in their business case. You can download the business case infographic here.
Conclusion
Digitisation is the unavoidable future. The business case is made, and in a fast-changing competitive and regulatory landscape, digitalisation is necessary to continue delivering the services that customers expect. At five°degrees we are part of the new digital thinking. We're helping banks transform themselves into new digital businesses that can deliver the value customers want long into the future
Future Proof. Today.