Digital transformation of the core systems is on top of the to-do list of many core banking architects. It's fundamental to be customer-centric, meet changing demands and cope with an unpredictable and constantly changing landscape. That's easier said than done because legacy systems have become saturated with extra layers of functionality, making them even more complicated and harder to manage. Better said, these systems inhibit business growth. That is why we believe core systems renewal is essential to make a full switch to digital. However, how do you ensure you won't end up with the same legacy problems within a few years, despite setting up something new? In this blog, we discuss the key features of a digital banking architecture that ensures a bank becoming future-proof and legacy-free.
1. A three-layer architecture
We believe a modern digital banking architecture is all about a seamless experience for customers and employees. Therefore, you should focus on all three layers of the core banking platform: front-end, mid-end, and back-end. That is why we believe the architecture should also have three layers, comprising a presentation layer, a client and orchestration layer, and a product layer.
The product layer focuses on handling products and contains no client information, the client and orchestration layer stores all client related processes and data, and the presentation layer contains the information for customers.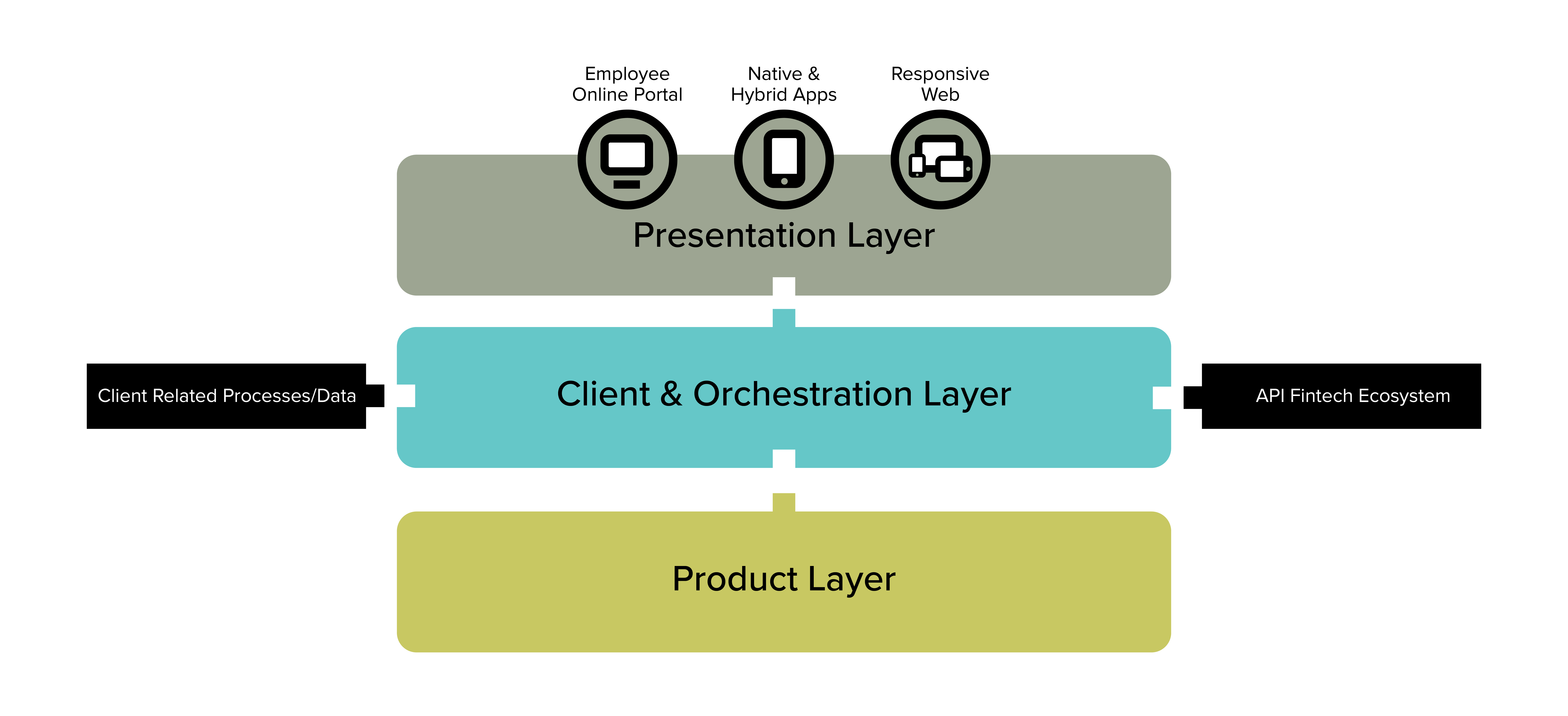 2. Standardization, configuration, and automation
The reason why many banks can't provide personalized and efficient services to customers is that their legacy systems have too much built-in customization. Custom code is the reason why architects are facing legacy challenges. The less customization, the less legacy you will create for the future. That is the key to serving your customers the way they want to be served and for geting ahead of the competition.
With standardization, configuration and automation you minimize custom development and you enable flexibility, scalability, and agility. It enables you to core banking systems that support your needs and meet rapidly changing customer demand and allow you to work on customer experience, operational excellence, and compliance at the same time. Now and in the future.


3. Integration with open APIs
Most legacy systems and core banking platforms aren't compatible with open APIs. This is why you are unable to provide innovative third-party solutions and services to your customer. APIs save you a lot of time — you don't have to reinvent the wheel yourself — and provide functionality and flexibility. In an age where customer demand is dictating faster, more secure and more flexible payment and banking options, the need to bring different software programs together far outweighs any resistance to change or fear of working with third-party fintechs.
A future-proof digital banking architecture is adaptable with these digital gateways so you can offer a range of in-house and third-party products and services, allowing a 'plug and play' approach. It helps you to leverage fintech innovations, launch new functionality and services, and expand into new markets.


4. A setup that allows self-servicing
A core banking system that has an architectural setup based on standardization and configuration allows self-servicing. Adding and removing functionality becomes — at its core — as simple as checking or unchecking boxes. You no longer need IT or other departments to make adjustments, and you can launch functionality without long lead times which results in a short time-to-market.


5. Cloud-based
Cloud computing serves as a transformative digital solution which offers unparalleled levels of security, agility, and scalability to banks. It is a solution to many core banking problems, like legacy issues, security, interoperability, and 24x7 uptime.
An architecture that is built and implemented in the cloud enables you to spend more time and money on the parts where you can make a difference for your clients instead of focusing on IT and security issues. We think that effective adoption of the cloud is a pivotal factor in deciding who emerges on top and who falls behind in this new age of digital banking.
In short, a three-layer architecture, standard building blocks, configuration editors, cloud-based, and integration with third-party solutions are features that define a future-proof digital banking architecture. Now you know about them, the next step is to learn all about building and implementing a future-proof and legacy-free core banking system.
To help you with this, we have written an architect's guide about digital core banking in the cloud. We discuss the key features in more depth and detail, tell you all about the benefits of cloud computing in core banking, and share why using standard building blocks and configuration editors not only ensure viability but also a smooth implementation.
Learn all about building and implementing your digital core banking platform in the cloud, fully configurable and with automated deployment: