A Barclays branch in London celebrated the 50th anniversary of their first cash dispenser by covering it in gold. This celebration is a contrast with the shift towards a cashless society. People use less cash, and for some people in society that is a serious issue. Homeless people have a hard time adapting to this change. However, the way we donate money to homeless people can be revolutionized. All due to the Helping Heart jacket.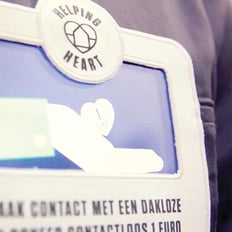 The winter jacket has a special integrated patch. This patch enables people to transfer 1 euro to the person wearing the jacket by using NFC technology. After the donation, the person who donates receives a payment specification in their bank account, with a personal thank you from the homeless person.
Next, the only way the homeless person can spend the money received is through an official homeless shelter. The money in the account can only be used for a meal, a bath or a place to sleep. The homeless person can also choose to save the money first and spend it on bigger goals, such as following vocational training courses or even choose to build up some savings. This controlled spending behavior also addresses the concern donors may have on how the money will be spent.
The aim of this campaign is to provide a way for people to give directly to a homeless person on the street, in a safe and secure manner. The jacket also creates an empathic connection between the homeless person wearing the jacket and people who want to donate, simply by putting your bank card on the heart of the person in need. When the jacket helps to find a way to empower users to get back on their feet and help others dealing with homelessness, it may be deemed a success.
Martijn Hohmann, five°degrees: "Our solutions enhance a cashless society. We feel it's also our role and responsibility to make the technology we built available for people who still depend on cash today."
The Helping Heart prototype jacket was positively received in the Netherlands by the homeless people, who used it, and the shelter involved, as well as the members of the public who donated. Several organisations and companies also reached out to N=5 to be part of further development explorations. This led to N=5, five°degrees, Mediamonks and TSIP combining their expertise in a shared ambition to help more people get back on their feet through the Helping Heart initiative.