For some time, fintechs were seen by banks as direct competitors because they were targeting the same consumer market. However, fintechs differentiated themselves in their closeness to the client needs, the technology they used, and their size, cost, flexibility and speed. It was a big departure from the traditional banking approach, and it was hard for banks to adjust to this new consumer-driven and technology-based competition.
It's not the first time that this has happened in the finance industry: for example, the introduction of ATMs was also troublesome but ended up cutting costs for banks, creating 24/7 services, and increasing consumer satisfaction. With some banks now choosing cooperation rather than confrontation, the future of banking should be more of a strategic partnership in which banks and fintechs use their skills to better serve the needs of the consumers, and to strengthen their own businesses.
The global numbers in 2017 seem to affirm the importance of bank and fintech collaboration. Globally more than 7,500 fintech firms have raised a staggering $109.8 billion. The annual funding has grown exponentially since 2010 from $5.1 billion to $28.4 billion. The success of this collaboration was derived mainly from those banks that were able to explore their strengths, and focused on improving the customer experience and reducing operational costs.
In 2018, the stronger presence of big techs like Google, Apple, Facebook, Amazon (GAFA) and Alibaba will demand closer and stronger cooperation between banks and fintechs. The collaboration strategy must focus on products and services to offer higher levels of personalization, speed, conceptuality, security, and regulation, together with a seamless delivery. The big techs have got consumers used to fast, personal, safe and always-available portable solutions, and banks need to adopt this approach too.
Two factors have a significant impact on a bank's collaboration strategy response:
The first is an increasing effort by banks to incorporate partner fintechs to enhance, extend and create a bank's current products and services. By doing this, the bank can bypass years of development and human and technology structural adaptation, and quickly reach the current market.
The second is the creation of challenger projects by incorporating and adapting a bank's pre-existing outsourced shared-services back into the bank´s direct management sphere. These projects will be connected to the bank and will act as incubator labs for testing out new market strategies, products, and services. Giving these challenger projects their own contained spaces creates a safety buffer for banks, lowering the risk of brand damage. New vendors and partnerships can be introduced, and a clearer image for the project lifecycle, details, management and outcomes can be created.
To have a chance of success, a bank's collaboration strategy that is influenced by these factors must focus on the following emphases: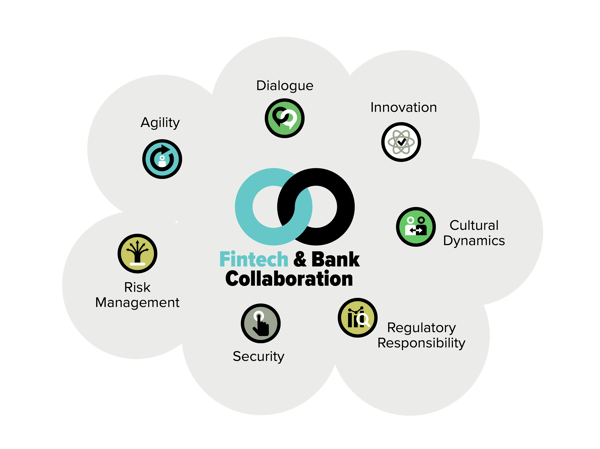 1) Emphasis on agility: Banks and fintechs cannot afford to rest because the market, regulations, technology and consumer needs are rapidly changing. They must continue to ensure that their systems constantly adapt.
2) Emphasis on dialogue: Banks and fintechs must continue to interact to make the best use of their strengths. Constant and regular dialogue is necessary so that they can continue to align strategically, both between themselves and with any stakeholders involved.
3) Emphasis on innovation: The innovation process is not easy and it takes a long time to get ideas to market. However it's a requisite and a focal point for future partnership investment. Only innovation can ensure that banks and fintechs are up to date or ahead of customer needs.
4) Emphasis on cultural dynamics: Banks and fintechs should strive to create a dynamic culture that is able to continually adapt to business and regulatory change.
5) Emphasis on regulatory responsibility: Banks should demand a strong partnership with their fintech partners that keeps them both up to date about compliance, regulation, and licensing requirements that could affect business and collaboration.
6) Emphasis on security: Banks must continue to be demanding about security with their Fintech partners, focusing on awareness and security testing.
7) Emphasis in risk management: Banks must take care the existing customer data, new big-data models and automated decisions risks. Banks and fintechs should work closely on testing business resilience.
Finally, the landscape of the banking and finance industry is changing rapidly and demanding ways, much as the rest of the ubiquitous online World. Ignoring this change might prove to be costly, but to embrace the change via strategic partnerships with fintechs is proving the best way to success in the marketplace, and to keep up with technology, customer demands, and regulatory challenges.
Learn more about the latest technology and trends in digital banking: