During your research into choosing a digital banking platform you'll be confronted with a myriad of facts and must-have features all absolutely guaranteeing to be essential for your future-proof digital bank. But what's the reality? With so much information about digital banking being offered in all sorts of ways, how can you filter out the fact from the fiction and get down to those essential features? To help you with your choice, we've created a list of 5 key features which we think are unmissable in a future-proof digital banking platform.
1. Three

-

layer architecture
The architecture of a digital bank must offer a seamless user experience for both the bank employees and the customers. Ideally product data and client data will be separated, allowing easier introduction of new products. The best digital banking architecture will have three layers, comprising a presentation layer, a client and orchestration layer, and a product layer. Separating the products from the customer data offers full flexibility for introducing new products and services. The presentation layer supports the employee portal and allows external connections for customer interfaces such as online banking apps.
2. L

egacy

platform

integration
Legacy platforms reach into almost every aspect of the business and replacing them is not always the right thing to do because it can have a colossal impact. Instead, re-engineering core systems and processes so they can be integrated with the new digital platform is a smarter way to go digital. A flexible digital platform with a two-speed IT architecture can be implemented on top of a traditional core system, giving you all the advantages of a digital platform.
3. O

pen

and

unified multi-channel integration

support
A digital banking platform with an open and unified multi-channel integration exploits the synergies available from all channels and partners, both internal and external, to deliver a broad range of products. A flexible digital banking platform will allow you to test different strategies and products, and scale data across the enterprise, permitting rapid product release and product changes. Getting a new product on the market becomes a much easier task.
4. A broad range of capabilities across channels
A broad range of capabilities to enable a seamless experience are a must for a digital banking platform. There should be business process management, customer relationship management, and communication management features, all highly-flexible and customizable. Smart alerts can be implemented to help your customers manage their finances. The platform must give a high-quality and seamless experience across all services and products, both for a bank's employees and a bank's customers.
5. Marketplace banking
A digital marketplace offers services and products that range from essential in-house created banking products through to niche banking services offered by specialist third-party vendors. These are essential in keeping your product offering up-to-date and fresh, and as the fintech world grows then so will the fintech product range. Integration with the digital banking platform is through an API integration layer that requires a minimum of effort to give a quick time-to market. Marketplace products release the full potential of digital banking and the fintech world and turn your banking platform into a true future-proof digital bank.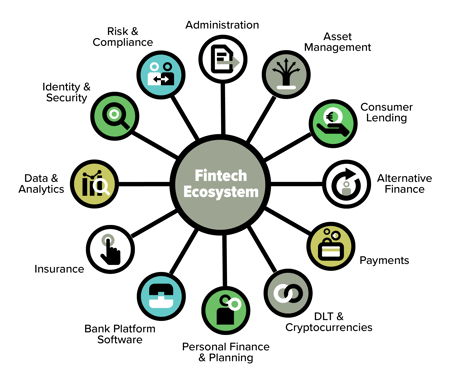 In our Strategic Guide to Selecting a Digital Banking Platform, we take a deeper look at the key essentials of a true digital bank. The guide describes the important aspects that you need to consider for your digital transformation.